Minister: Rev. Edward McKenzie B.A., B.D., Dip.Min.
Edward is husband to Lesley and father to Alfie and Esmé, he enjoys reading both history and fiction, film and keeping up with current affairs as well as collecting 'interesting clutter' much to Lesley's despair!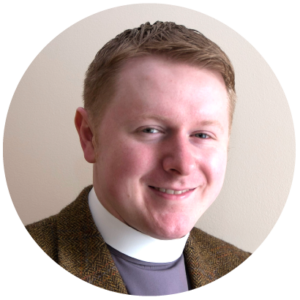 Edward is our Minister or 'teaching elder', his role is to lead the worship and teach the Scriptures to the congregation. He visits those connected with the church at home, being available for them in time of sickness or bereavement.
He is originally from East Belfast but grew up in Ballygowan. Edward give his life to the Lord Jesus as a result of being taught at Sunday School, but didn't attend church regularly as a child until his teenage years when he began to attend Castlereagh Presbyterian Church, this congregation was to become his spiritual home.
While it was not always straightforward with personal problems and issues along the way he felt called into the ministry during his early teens and has found that sense for call to be of great help in times of difficulty and discouragement.
After his time at Grosvenor Grammar School he studied a BA in Philosophy at Queens University and after working full time in a corner shop Edward started his training for the Ministry in Union Theological College in 2008. There he completed a Divinity Degree alongside a Post Graduate Diploma in Ministry.
Before coming to Rostrevor, Edward served as Assistant Minister in Killinchy and Summer Assistant in Hillhall, outside Lisburn.
Edward also serves as Minister to the Presbyterian congregation in Warrenpoint, should you wish to contact him, please ring the Manse on 028 41 753 316
Kirk Session:
The 'Kirk Session' is the group that work alongside the minister in leading the church and looking after pastoral concerns. They are responsible for the 'spiritual oversight' of the congregation and are known as 'Ruling Elders'-
Clerk of Session: Mr. Terry O'Flynn
Mr John Fisher O.B.E
Mrs Doreen Henderson-Temple
Mr Roy Prescott

Congregational Committee:
'The Committee' is the group responsible for the practical issues of church life, even though their role is not overtly spiritual members of committee are elected due to their commitment to church attendance and obvious faith, as they look after the resources the church has to do her work, the committee equips and assists the Minister, Kirk Session and congregation for a shared mission.
Congregational Secretary: Miss Ruth Craig
Congregational Treasurer: Mr Roy Prescott